Baan Thai, Best Thai Restaurant in Ireland.
We have two Dublin restaurants uniquely designed as historical Thai houses. Both rich in history and culture to welcome you to an immersive Thai dining experience.
OPENING HOURS:
Tuesday – Thursday: 12:00 – 22.30
Friday
–
Saturday: 16:00 – 22:30
Sunday: 16:00 – 22:00
PARKING:
Free parking is available in the underground car park opposite the restaurant. Customers can park outside the Restaurant for collections. This is also available for dine-in customers if after 5.30pm for weekdays and any time during weekends.
PHONE:
Ballsbridge (Dublin City Centre)
OPENING HOURS:
Sunday – Thursday: 5.30pm – 10.30pm
Friday – Saturday: 5.30pm – 11pm
PARKING:
On street sparking outside the restaurant.
PHONE: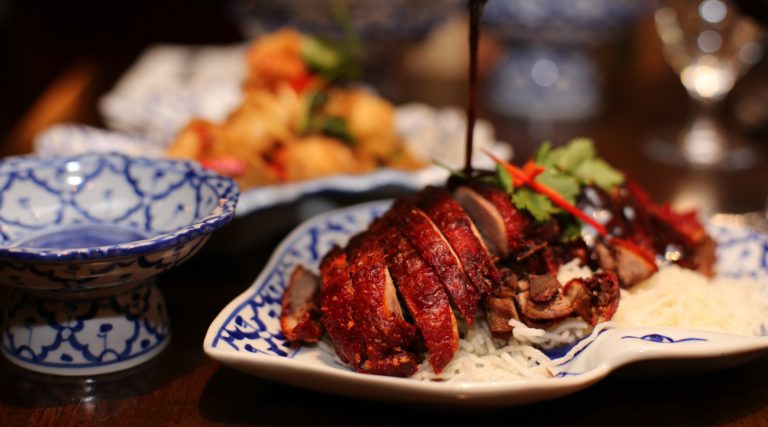 Roasted Half Duck on a bed of crispy noodles, topped with our tangy home made Tamarind sauce
Crispy Whole Seabass filleted topped with coconut creamed red curry sauce, shredded lime leaves & basil
A blend of red chillies, Thai herbs & spices, coconut milk, bamboo shoots, peppers & pea. Customised to your liking with one of the following: Tender Chicken Breast, Succulent Beef, Tofu and Seasonal Veg, Delicious Duck, Pacific Prawns or Fresh Seabass
Steamed Seabass with lime, chilli, garlic, celery & coriander – A Thai classic
Skewered, chicken breast marinated in curry spices with a spicy home-made peanut sauce.
Rice noodles stir fried, egg, spring onion, ground peanut & bean sprouts with home-made tamarind sauce.
A blend of turmeric, Thai spices & herbs cooked with, onion & potato in coconut milk.
Cashew Nuts & Spring Onion Stir Fry
with seasonal vegetables, garlic, peppers & dried chillies.
Pacific prawns in light Tempura w/ plum sauce
A blend of green chillies, Thai herbs & spices, bamboo shoots, peppers, pea in coconut milk
Ground chicken fillet spicy salad. Mixed w/ roasted rice, chillies, Thai herbs & lime. Served w/ iceberg lettuce
Half Duck on a Sizzling Hot Plate
Roasted half duck on a bed of sautéed seasonal vegetables,light soya, in a sizzling hot plate
"Authentic Thai food. So good, I'm almost loathe to recommend it in case it gets too busy and I can't get a table! Great food, great service, reasonably priced"
"Wow wow wow! Everything about this place compliments the wonderful food. The exciting e-San Thai music from the northern region and the rich dark interior home the delicious generous Thai delights, some of the best food outside of Thailand I've ever eaten. Get the Jumbo Prawns with tamarind sauce for an extra special treat. Thai green curry was great too! Check out the photos! Get the sorbet to cut through after before you head out!"
"Had a few meals there with a chef, they were impressed, do was I."
"Delicious Thai food in a very cozy environment. The fact that all staff is from Thailand makes it feel very authentic. Plates are fantastic and service is top notch. #1 Thai restaurant in Dublin for me"
"Food was very good feeling home just like Thailand love it will be back soon."
"Authentic Thai food at very reasonable prices, this place is a staple of the area since ages ago. They serve food 'medium spicy' by default (that's Thai levels of spicy, not Irish). You almost have to sign a disclaimer to get the 'jungle curry' but damn it's good."
"This is a little oasis in the cleaming high rises of Central Park. The décor is something to behold, transporting you well away when you enter. The staff are friendly, with a good sense of humour and great, attentive service. And then the food arrives and it's all just perfect! (The lunch and early bird deals are terrific value too!)"
"My favourite Thai Restaurant in Dublin, always consistently great food, friendly staff and never disappointed. I bring clients there for meals and friends there for catch up lunch/dinner. If you haven't tried it yet then you must go. Be warned to book in advance as this is a busy place and a local favourite. 😉👍"